2020 Initiative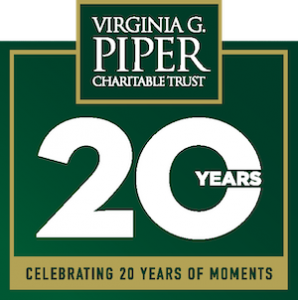 What is Piper Trust's 2020 Initiative?
2020 (Fiscal Year 2019-2020) marks Piper Trust's 20th year serving Maricopa County. In honor of Piper Trust's 20th Anniversary and Virginia Piper's legacy, the Trust will invest an additional $20 million in the organizational capacity of its grantees through programs that will roll out over an approximate four-year period. Piper Trust has a history of investing in the operational capacity of organizations through its capacity building programs and Arts and Culture grantmaking and capacity building programs. This special investment to commemorate our 20th Anniversary will be over and above the Trust's annual grant payments of approximately $23 million dollars.
The 2020 Initiative has Four Elements:
2020 Element #1: ATLAS and AGILE: Expansion/Enhancement
ATLAS and AGILE, Piper Trust's existing holistic capacity building cohort programs, have garnered much success since their inception. These programs focus on a broad range of organizational capacities and are designed to increase the operational capacity and organizational resilience of grantees.
Over the next four years, plans include increasing the number of cohorts and enhancing them with new elements. Programs will be enhanced by "Right-Sizing," which allows for meeting the unique needs of organizations with smaller annual budgets ($250K to $1 million) and those with larger annual budgets ($15 million+).
New programs will launch throughout the 2020 Initiative period and will be available only to grantees.
When will the ATLAS/AGILE Expansion/Enhancement programs launch?
The next cohort selected by Piper Trust will launch in early 2020. Grantees interested in these programs may contact Chloe Silva ([email protected]) for more information.
2020 Element #2: Post-ATLAS Grantmaking: Capacity Building Grants for Human Services Organizations
Similar to the Trust's existing grantmaking for arts and culture organizations, this effort creates an opportunity for ATLAS organizations to continue their capacity building work by requesting a second investment that builds on what they began in their ATLAS cohort. These iterative investments in business operations and organizational efficiency will be informed by deep assessment and comprehensive organizational awareness. ATLAS graduates can apply for these grants which will likely be capped at a percentage of the grantee budget.
When will the Post-ATLAS grants be available?
This opportunity will be available in late 2019 and will be open to organizations that have already graduated from ATLAS. Contact Erin Goodman ([email protected]) for more information.
2020 Element #3: Focused Capacity Building
This programming will concentrate on a single area of organizational capacity. This effort will support long-term sustainability and organizational resilience by building skills and knowledge, and developing tools to support the operational capacity of grantees.
This programming approach will be similar to the Trust's Good Governance Fund, but will expand to target other areas of organizational capacity such as: financial management, technology and data innovation, and business intelligence. This programming may include cohorts, modest grant awards, or learning-plus-technical-support.
When will the Focused Capacity Building be available?
This effort is planned to launch in mid-2020. Contact Chloe Silva ([email protected]) for more information.
2020 Element #4: Busting the Overhead Myth
Inspired by the national movement to dispel the Overhead Myth, these significant investments will build the fundraising and communication capacity of Trust-selected human services grantees that provide healthcare, shelter, and essential services for people in need. Investments will provide access to expert talent; building internal staff capacity; supporting the use of data, technology, and innovations available in the field; and building mindsets, behaviors, and systems throughout an organization to support sustained success fundraising and marketing. Investments will be designed to help strengthen community awareness of the organization's work and the issues it seeks to address.
When will the Overhead Myth work begin?
This effort is designed for two Trust-selected human service-oriented grantees; the first effort is planned to launch in 2021. Contact Chloe Silva ([email protected]) for more information.
Piper Trust Glossary of Terms
What is a grantee?
Piper Trust defines a grantee as an organization that has received grant funding through the Trust's responsive grant process.
What is ATLAS?
ATLAS is designed to strengthen the organizational and operational structure Trust-selected grantees. ATLAS is a holistic approach to building capacity and developing organizational resilience. ATLAS participants assess lifecycle stages and develop comprehensive plans for building organizational capacity. The two-year program includes: a deep organizational self-assessment, consulting support, a modest grant and a peer learning cohort. For more information visit: pipertrust.org/ATLAS.
What is AGILE?
AGILE supports building the operational capacity and organizational resilience of a Trust-selected set of mid-sized arts organizations (operating budgets from $1 to $7 million). AGILE is similar to ATLAS and includes strategic capital investments in order to foster long-and short-term financial resilience. For more information visit: pipertrust.org/AGILE.
What is the Overhead Myth?
The Overhead Myth refers to a belief that overhead ratios are the leading indicator of organizational effectiveness. This thinking has driven a culture in the nonprofit sector that can be critical of spending on the tools, resources, and talent needed to achieve excellent outcomes and sustain critically important missions. For more information visit: overheadmyth.com.
What is the Good Governance Fund?
Piper Trust recognizes that a strong and engaged board of directors is critical to the long-term success and sustainability of a social profit's mission. Launched in 2014, the Good Governance Fund provides $15,000 grants to support efforts that strengthen nonprofit board governance practices and leadership. For more information visit: pipertrust.org/governance.