Creighton University names members of new Presidential Health Sciences Phoenix Advisory Board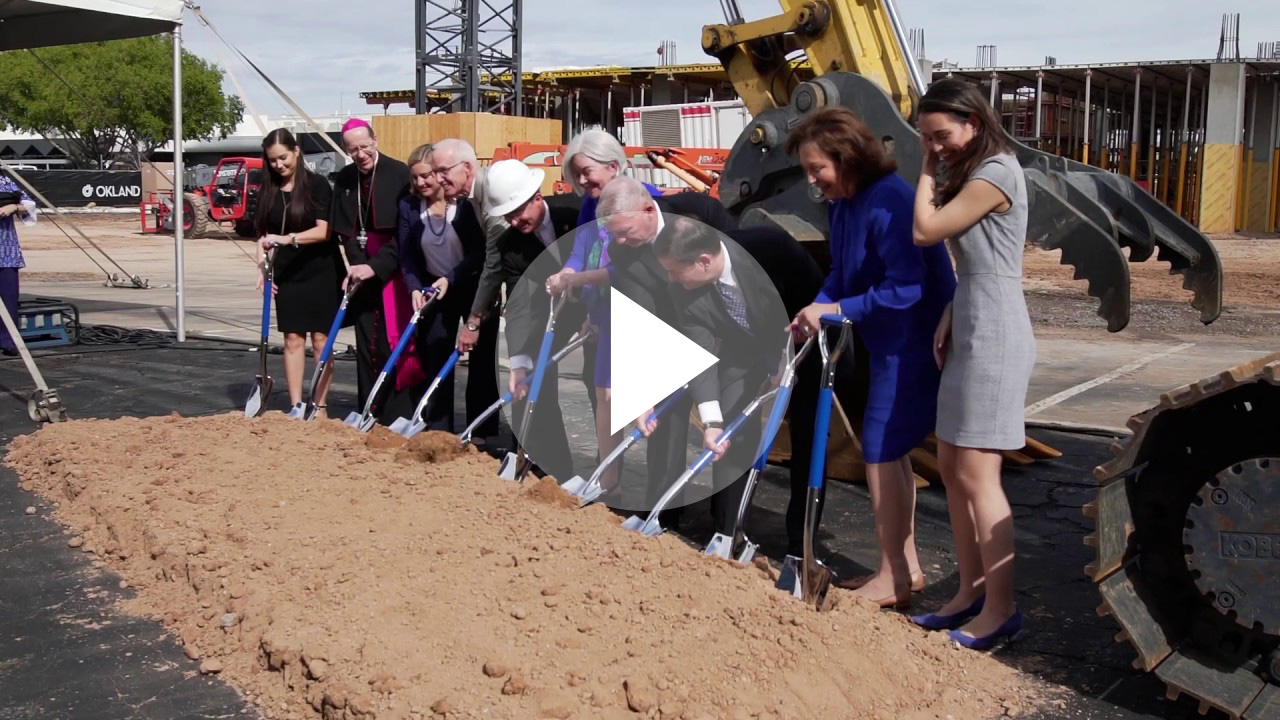 Held September 25, 2019
Sixteen Phoenix-area community, philanthropic and business leaders will help guide the development and growth of the new Creighton University Health Sciences – Phoenix Campus, Creighton President the Rev. Daniel S. Hendrickson, SJ, announced Oct. 18.
"The Phoenix campus marks a bold new chapter for Creighton, as well as Arizona's health care community," Fr. Hendrickson said. "As such, bold leadership will be vital to its success."
Led by chair Sharon Harper, CEO, chairman and co-founder of Plaza Companies, the inaugural Creighton University Presidential Health Sciences Phoenix Advisory Board will assist Hendrickson in a number of ways. Board members will focus on community engagement, communications and partnerships.
"Leaders across critical sectors have joined the advisory board with great enthusiasm," Harper said. "Creighton students and faculty have been embedded in Maricopa County for more than a decade, collaborating with community partners to improve health outcomes for our growing population and training to become outstanding, compassionate, clinic-ready health professionals – and this is just the start. The advisory board shares my belief that Creighton health sciences will be transformational for our region and state. We could not be more thrilled and committed to advancing Creighton's success."
Creighton's Phoenix campus will accommodate nearly 900 students — including future physicians, nurses, occupational therapists, physical therapists, pharmacists and physician assistants — in a $100 million, state-of-the-art building. The campus will open in 2021 at Phoenix's Park Central.
"No issue concerns Arizonans more than access to quality health care," said advisory board member Don Brandt, chairman and CEO of Arizona Public Service. "Creighton is a national leader in health care education excellence. In collaboration with Dignity Health St. Joseph's Hospital and Medical Center, Valleywise Health and District Medical Group, they will lead the way in addressing our region's urgent need for a well-prepared health care workforce for decades to come."
The full list of board members includes:
Sharon Harper, board chair — CEO, chairman and co-founder of Plaza Companies, Arizona's premier real estate firm and the developer for the Phoenix campus. Harper, a Creighton alumna, also serves on the Creighton University Board of Trustees.
David Adame — president and CEO of Chicanos Por La Causa, one the nation's largest Hispanic nonprofits promoting stronger and healthier communities throughout the southwestern United States.
Michael Bidwill — president of the Arizona Cardinals.
Don Brandt — chairman and CEO of Arizona Public Service.
Steve Chucri — Maricopa County Board of Supervisors, District 2, and president and CEO of the Arizona Restaurant Association.
Gonzalo De La Melena — president of Emerging Airport Ventures.
Joseph Giancola, BS'86, MD — a dermatologic surgeon in Phoenix and an associate professor with Creighton's School of Medicine.
Robert Griego, DDS'69 — a dentist in Phoenix who has served on the Creighton School of Dentistry's Alumni Advisory Board, and, in 2006, was honored with the dental school's Alumni Merit Award.
Mary Jo Jerde, BSN'80 — senior vice president of the UnitedHealth Group Center for Clinician Advancement.
Marco Lopez — founder, president and CEO of Intermestic Partners.
Karrin Taylor Robson — founder and president of Arizona Strategies, a premier land use strategy firm based in Phoenix.
Mary Jane Rynd — president and CEO of the Virginia G. Piper Charitable Trust.
Steven Seleznow — president and CEO of the Arizona Community Foundation, Arizona's largest statewide grant-maker and largest provider of scholarships.
Roger Stevenson — president of the Norton Foundation and CEO of the firm Cotton Norton Stevenson Consulting.
John Wolfe — senior vice president and region manager of Cox Communications' Southwest region, responsible for the company's overall operations in Arizona and Nevada.
Steve Zabilski — executive director of Society of St. Vincent de Paul Phoenix, a nonprofit focused on providing care, nourishment and resources to those most in need.
Creighton's health sciences campus comes at a crucial time for Arizona, which must address a health care workforce shortage.
The state is facing both a boom in population and a shortfall in medical professionals. By 2030, Arizona is expected to have just one primary care doctor for every 1,500 people and a projected shortage of 50,000 nurses. Creighton's expanded presence will help address that growing demand.
"Creighton represents an opportunity for Arizona to continue tackling the doctor, nursing and health professional shortage that we are experiencing nationally, " says Marco Lopez, founder, president and CEO of Intermestic Partners. "In Arizona, particularly, having an institution like Creighton, which focuses on the diverse needs of Arizona's dynamic demographics — including aging Latino and Native American communities — is vital to our state's growth and prosperity."
– – –
For more information: https://www.creighton.edu/publicrelations/newscenter/news/2019/october2019/october182019/phoenixadvisoryboardnr101819/